Where will we be selling soap?
The Secondhand Dogs at the Market on Broadway, Columbus, GA*
*Thank you to our friend, Yuriy Totskiy, for this beautiful photograph!
The Secondhand Dogs will be at
Market Days on Broadway, near the corner of 10th Street, in Uptown Columbus, Georgia, most
Saturdays from 9:00 till 12:00 noon. We can't come if it's foggy, or raining, because that has a really bad effect on soap! Our spot is midway down the block between 10th Street and 11th Street. We may also be at various other shows, that you'll be able to find right here. Meanwhile, you can still get your favorite soaps and balms here on the website, or with an email, or phone call to us.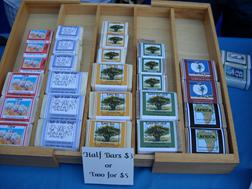 Soap for Sale
If you miss us downtown, you can now buy our full line of soaps at the
National Civil War Naval Museum
1002 Victory Drive, Columbus, GA 31901
The Secondhand Dogs Soap Company is proud to announce that we have been selected to produce the official soap of the National Civil War Naval Museum in Columbus, GA, IRONCLAD. Our entire line of soaps can also be found for sale in the Museum Store.
ADMISSION TO THE MUSEUM STORE IS FREE TO THE PUBLIC.
A Little about the Museum:
Located in Columbus, Georgia, the National Civil War Museum overlooks the Chattahoochee River. It houses the largest surviving Confederate warship, the CSS Jackson, as well as the wreckage of the CSS Chattahoochee. Other exhibits include a full scale ship replica of the USS Water Witch. a replica of the USS Hartford with its berth deck, ward room and captain's cabin, an actual cutter or "ship's boat" from the USS Hartford, a full scale replica of the USS Monitor's famous turret, and an immersive paoramic dockside exhibit recreating Plymouth, North Carolina, complete with an exterior and interior view of the CSS Albemarle.
There are, among the many artifacts, Navy flags from ships and coastal forts. The Museum hosts events including museum theater and historic character interpretations. There are living history events, tours, weapons demonstrations, local history projects, and even cannon firings!
The museum store houses a nice assortment of keepsakes, souvenirs, and Civil War era memorabilia for sale. They have recently added a supply of locally produced items, including Ironclad Soap and our other fine soaps. Although the admission is small, you can enter the front doors and visit the Museum Store for FREE. But you probably won't want to miss the rest of the show, so take the family and friends and immerse yourself in the life of our sailors of the Civil War.
This first class museum is on a par with, although smaller than, the Infantry Museum, also in Columbus, Georgia. The Secondhand Dogs give a big 10 paws up and encourage you to go soon and go often!
Museum Hours

Sunday and Monday 12:30 pm - 4:30 pm

Tuesday - Saturday 10:00 am - 4:30 pm

Closed New Year's, Easter Sunday, Thanksgiving & Christmas




Admission

Military/Seniors $6.50

Students $6.00

Children 6 and under Free